The First Annual Nova List Gathering
Saturday!
Part 4
(click on any image to see a larger version)
---
We were now waiting for eliminations to begin, sitting in the stands, watching the Pro and Super Pro cars run.  It was fun to watch and gave us a chance to relax and have a bite to eat, but the wait got to be a little long.
Here's Craig and Angella:
And here's the rest of the group (except me):
Well, Shawn is kind of hidden behind Craig's head, but that's Mike facing the camera and Kayce to the right with the sneer on here face.  I think I surprised her with the picture or something.
Here's a better shot of Shawn and Kayce.  No, they're NOT boyfriend/ girlfriend, although Craig, Angella, and I thought they were...
---
And here's a nice shot of Kayce's '71 6-cylinder: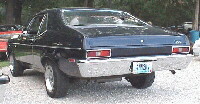 ---
Mike and his 14-second '68:
---
Craig's '73's motor:
Craig's sticky, wrinkle-wall, DOT-legal, M&H Racemaster drag racing tires:
---
Here's Shawn's 6-cylinder '72: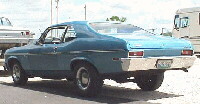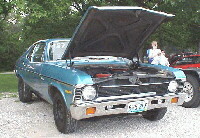 ---
And my '72 (which you've probably seen enough of, right?):
---
Okay, the next page has some eliminations stuff on it, I promise!
More stuff from Saturday on the Next Page
---
Gathering Links...
The Trip to St. Louis:   Page 1   Page 2  
Page 3
Friday Night in St. Louis:   Page 1
Saturday:   Page 1   Page 2   Page 3   Page 4   Page 5
Sunday:   Page 1   Page 2   Page 3
The Trip Home from St. Louis:   Page 1   Page 2