The First Annual Nova List Gathering
Sunday!
Part 1
(click on any image to see a larger version)
---
Sunday morning came rather early, since we didn't get to bed until nearly 2am and wanted to get up in time to get out and do some sightseeing before it became time to head home.  That's okay though, I'll sleep when I'm dead.
We packed up our stuff, chatted with Rick again, took Craig's M&Hs off his car and bolted on his Drag Radials, chatted with Rick, unloaded the car from the trailer, chatted with Rick, and checked out of the motel.  This is what it it looked like from the front: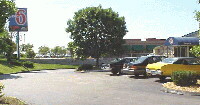 And this is what me and my trophy look like in front of the motel (I was still high):
---
Rick and his wife were going home that morning so we said our good-byes.  Craig, Angella, and I went out for some breakfast (but turned out to be lunch, since by this time it was about 11am) at at Steak 'N' Shake on Route 66.  On the way there, we did some cruising:
Then we turned onto Craig and Angella's road:
You weren't aware the Watson family was so well known, were you?
FOOD!  We were starving!
---
We filled our faces and decided to go downtown, check out the Arch, and see what happens. It was a rather long drive along:
It was pretty cool. And so were the Watsons:
I was cool, too, but I just didn't happen to take any pictures of myself.  ;-)
---
More Sunday cruising to downtown St. Louis on the Next Page
---
Gathering Links...
The Trip to St. Louis:   Page 1   Page 2  
Page 3
Friday Night in St. Louis:   Page 1
Saturday:   Page 1   Page 2   Page 3   Page 4   Page 5
Sunday:   Page 1   Page 2   Page 3
The Trip Home from St. Louis:   Page 1   Page 2
You are visitor number
since 8/12/99.