The First Annual Nova List Gathering
Sunday!
Part 2
(click on any image to see a larger version)
---
Still cruising towards downtown...
I took lots of pictures cruising towards downtown, but I also took some video with a full-size video camera.  Now THAT was a challenge!  It's fun to watch, though.
---
Ooooh, the Arch is in sight...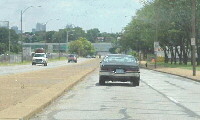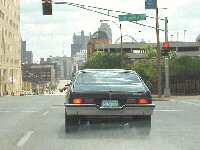 closer...closer....
 Almost there...
---
Okay, I'm getting a little tired of the back of Craig's car.  Unfortunately, due to that nasty 383 of his, that's all I ever get to see!
Anyway, we made it to the Arch.
Cool.  Okay, what's next?  I'm just kidding, the Arch is really cool, but I was there in 1990 and Craig and Angella were there in '95 (all of us on our honeymoons, coincidentally), so we weren't terribly excited to see it again from the inside.  We just decided to cruise around some more, like down to the Mississippi. Click on the first picture, it's pretty cool with that sign in front of Craig's car and the river and bridge and all that.  The second pic is after turning right at the sign and driving along the riverfront.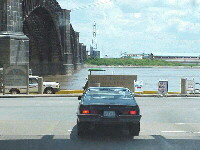 Okay, we're done with the Arch and it's surroundings. We move on...
---
More Sunday on the Next Page
---
Gathering Links...
The Trip to St. Louis:   Page 1   Page 2  
Page 3
Friday Night in St. Louis:   Page 1
Saturday:   Page 1   Page 2   Page 3   Page 4   Page 5
Sunday:   Page 1   Page 2   Page 3
The Trip Home from St. Louis:   Page 1   Page 2
You are visitor number
since 8/12/99.