The First Annual Nova List Gathering
The Journey Home :-(
Part 1
(click on any image to see a larger version)
---
Yup, it was all over.  :-(  Nothing left but the drive home.  We left he motel just after 4pm on Sunday. I had about 650 miles ahead of me so I knew I wouldn't make it that night. I planned to drive until it got dark, find some place to stay the night, and finish the drive on Monday.
Here's the bridge over the Missouri River again. It was much more fun crossing it the prior day behind two Novas on the way to the racetrack!  Oh, well.
---
I made it to Hannibal, Missouri without incident. I just happened to look down at the speedo and noticed my car was just turning over 200,000 miles!  Got the pic a couple tenths late, but it was all I could do.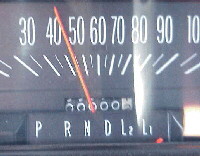 ---
The rest of the way through Missouri (and Iowa, for that matter) was pretty uneventful.  Actually, northeastern Missouri is quite beautiful and the road I was traveling was rather meandering, which helped alleviate the boredom.  Unfortunately I really didn't take any pictures except this one:
Those are cows up on the hill, in case you can't tell (how could you?).  I realized WAY too late that the digital camera of which I had posession had both a wide-angle lens AND a telephoto lens! Anyway, it was a gorgeous evening, weather-wise:  about 75 degrees, light breeze, not a cloud in the sky.
---
I crossed a rickety, narrow bridge across the Des Moines River to get from Missouri to Iowa and actually had to pay a 50-cent toll to get across!  (Tolls are virtually unheard of west of Chicago and north of Kansas City)  It was quite obvious they weren't using the tolls for bridge upgrades!
On into Iowa and away from the Mississippi River valley, things became rather flat, but still pretty.  Saw a beautiful, black '63 Impala for sale, but I was in no position to purchase (tough to drive two cars home at the same time).
I was heading for Iowa City to stay overnight as the sun went down...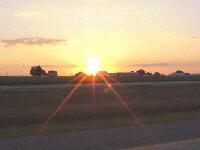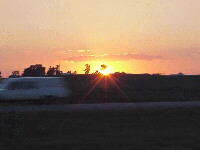 Pretty cool.  That was about it for Sunday night's travels.  I stayed in another Motel 6 (my own exterior door right across the sidewalk from my car on the back side of the building).
---
Click on the Next Page for the rest of the trip home.
---
Gathering Links...
The Trip to St. Louis:   Page 1   Page 2
Friday Night in St. Louis:   Page 1
Saturday:   Page 1   Page 2   Page 3   Page 4   Page 5
Sunday:   Page 1   Page 2   Page 3
The Trip Home from St. Louis:   Page 1   Page 2
You are visitor number
since 8/12/99.