Bruce's '72 Nova: 2001
During the winter and spring of 2001, I:

Fabricated and installed traction device
Installed 4.10:1 Richmond gears
Installed new Tom's Kick-Ass Axles from Tom's Differentials
Put in my new (to me) Hurst Quarter Stick shifter
Installed my new 4000-stall Midwest converter
Converted my fiberglass bolt-on hood to pin-on
Summary:
Rear Gears and Axles:
I started pulling the rearend apart to put in the new (to me) Richmond 4.10 gears and upon inspection of the axles, I found that there was a lot of pitting where the axle bearings ride.
Dang! How to fix? Replace the axles. The cheapest well-respected place to get new axles was
Tom's Differentials
, where I ordered up a pair of Tom's Kick Ass axles, Torrington bearings, CR seals, and ARP 1/2" thread-in wheel studs, all for $299 including shipping. Yeah, the studs are a bit long! I can't even get my center caps on. Tom's didn't ask what length I wanted, so if you get some studs from them, be sure to specify the length you want!
Shifter:
I bought a used Hurst shifter to replace the mid-'70s Monte Carlo shifter I had been using since 1990. The Monte shifter worked fine, but it didn't have a neutral- safety switch, which is required for NHRA-legality (and for just plain ol' safety) and it wasn't a very cool shifter. I had to modify my center console somewhat to make it work and also fabricate some brackets to bolt to the shifter, so it took some time, but I got it all worked out. I finished making a new cover for the console, too. Here's the new shifter:
Torque Converter:
I bought a new 4000-stall converter from
Midwest Converter Technologies
to replace my too-tight B&M Holeshot 2400. That one just didn't work well with my Comp XE274 cam and my slow 2.00 60-foot times prove that (compared to the combo I was running the year before, milder yet quicker). I love the new converter! Definitely buy Midwest if you need a converter. The tranny temp never gets over 200 degrees even with only a cheap tube-and-fin cooler and sitting in stop-and-go traffic in 100-degree weather. Try that with a 4000-stall converter from one of the other companies! This is my daily-driver, remember. It cruises almost like my old 2400-stall, but when I punch it the tach jumps right up to about 4000 rpm. Go to
www.raceconverters.com
and buy one. Now! My 60-footers dropped to 1.86 with some tirespin and no tuning of my traction bars. HUGE improvement! I'm looking for 1.80s next time out.
Hood:
And finally, I converted my Unlimited fiberglass cowl-induction hood from a bolt-on to a pin-on. It was always pinned at the front, but now there are hood pins at the rear, too. Why? The hinge springs didn't quite hold the hood up so I got tired of dealing with that, I also got tired of working around the hood and hinges to get back by the firewall, and the hood kept so much light out of the engine bay. Now I lift the hood off, lay it on my vinyl roof, and I can easily access everything with plenty of light. Another advantage is I'm 6'2" tall and my car is somewhat low, so I really had to bend over to get under the hood. Not anymore. Here are some pics:

Unfortunately, along with the advantages a lift-off hood provides, there's one disadvantage. When the hood is on the roof, it's easy to forget about it! I had it on the roof in mid-August and was moving my car around the driveway so I could do another project in the garage. As you might have guessed, I forgot about the hood and punched the gas to get up the driveway. Strangely, that didn't cause a problem. The problem came when I hit the brakes as I approached the house and the hood slid forward along the roof and fell down into the engine bay. The hood is fine, but the leading edge trim hit the top inside corner of my right fender and took off a couple small chunks of paint and somehow (I'm still not sure how) the hood put a small tear in my vinyl roof at the very front, almost in the center. I wonder if that happened when I gassed it? There are those studs holding the front trim piece to the hood, maybe one of those cut into the vinyl as the car accelerated forward and the hood tried to stay where it was? A body at rest tends to stay at rest unless acted upon by an outside force...
Oh well, it's a street car, right?
Late Summer Status and Problems:
Nothing exciting to report, unfortunately. As a result of a big bog upon hard acceleration and because my engine started running crappier and crappier, I rebuilt the carb (Holley #3310, 750 cfm, vacuum secondary). It went well, the rubber umbrella valve in the accelerator pump basically disintigrated in my hand so I figured that was the main problem with the bog.
I reinstalled the carb and the bog is better, but not gone. Hopefully some adjustments will eliminate that problem.
Two new problems have presented themselves, however.
First, when in top gear at about 45+ mph giving it some good pedal (anywhere from half- to full-throttle) for solid acceleration, it sounds like it's missing or like there's a huge vacuum leak or something. WAA uhh WAAA uh WAA uhhh, and so on. It's not like I'm giving throttle and then no throttle, it's not nearly that severe, but it's very noticeable. Maybe a lean surge? My oxygen sensor readings are very low (lean) under acceleration (when above the power valve's opening point (100 mV)), but this problem occurs even when the PV is open resulting in a rich condition (900 mV), too, so it doesn't seem to relate to the air/fuel ratio. Odd. But before I can address that issue, I have a more immediate problem: My driver's side motor mount is broken. I happened to drive with the hood off for a few miles and immediately saw what was going on. When I punch it from a stop the driver's side of the engine lifts up about 2 inches! Here are a couple screen shots of the video I took showing it at rest and when I punch it.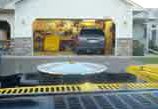 And here's the 120 Kb video itself. Sorry for the potato quality, but digital cameras didn't take good video in 2001.
Not good. I've seen it move even more than in the video, too. I made a limiting strap for the short term so I could feel more safe driving it until I have a chance to install my new Energy Suspension polyurethane engine mounts. Then I'll start trying to figure out what's up with the carb!
Autumn Update:
I got an engine-limiting strap installed, I just made one out of a braided battery cable. It's working great. Now, however, I have a power steering fluid leak! ACK! When will it end? I think it's just the return line, so it should be really easy to fix.
The Latest:
The limit strap broke. The stranded wire broke right at the terminal. I have no idea how long I was driving with it broken, I probably didn't lift the hood for two weeks. Oh well, no damage seems to have occurred. I'm done driving it for this year so I'll just replace the motor mounts this winter.
Here are the final 2001 specs for my car:
My Engine:
'73 350 block from a Nova SS, align-honed, decked, and bored .030" over
Stock cast crank turned down .010"/.010"
Rebuilt 5.7" rods with ARP Waveloc bolts from Northern Auto Parts Warehouse
Speed-Pro hypereutectic flattop pistons
10.1:1 static compression ratio
Hastings moly rings
Melling M55A oil pump
Moroso oil pump pickup
Moroso windage tray
Moroso 7-quart oil pan
Vibratech 6-3/4" StreetDampr harmonic balancer
Comp Cams Xtreme Energy 274 cam - 230/236 degrees duration @ .050" lift, .487"/.490" valve lift, 110 degree LDA
Bow Tie iron heads, casting number #034, 2.02"/1.60" valves, 1.46" springs, guideplates, screw-in studs
Crane Gold full-roller rockers, 1.5:1 on intake, 1.6:1 on exhaust
Comp Cams #926 valvesprings
Edelbrock Performer RPM intake manifold
Holley #3310 750 cfm vac. sec. carb with secondary metering block and 50cc accelerator pump - 76/82 jets, lightest secondary spring
K&N 14x4 air filter in a Summit Racing housing
MSD Pro Billet distributor and Blaster 3 Power Tower coil
Hooker Competition 1-5/8" headers
Mandrel-bent 2-1/2" dual exhaust all the way to the rear bumper with 3" collector extensions, cutouts, oxygen sensors, and Thrush California Turbo mufflers
The Rest of the Driveline:
TH 350 with B&M Shift Improver Kit (which I highly recommend!)
Hayden tube-and-fin tranny cooler
Midwest 4000-stall, 10-inch converter
Stock driveshaft with Summit safety loop
'72 8.5" 10-bolt rearend housing
'73 or '74 Nova Eaton posi carrier
Richmond 4.10:1 ring & pinion
Tom's Kick Ass replacement axles
Homemade traction bars
Chassis and Suspension:
Stock unibody frame with homemade subframe connectors welded in
Graphite-impregnated polyurethane body mount bushings
Graphite-impregnated polyurethane leaf spring bushings and pads
Original front V8 w/ A/C coil springs with one coil removed
Herb Adams 3-way adjustable shocks on all four corners
Relocated upper control arm (per Dick Guldstrand's recommendations) for more positive camber gain
Graphite-impregnated polyurethane upper and lower control arm bushings and bump stops
Hellwig 1-1/8" front anti-sway bar with graphite-impregnated polyurethane bushings
Addco 3/4" rear anti-sway bar with polyurethane bushings
Front steering system rebuilt in '97 including tie rods, sleeves, ball joints, idler arm, and Pitman arm.
Rebuilt power steering gearbox with 12:1 ratio and high effort valve by Lee Power Steering.
Rebuilt power steering pump by Lee Power Steering.
New stock replacement rag joint
'73 Nova SS tilt steering column
Feedback and questions are always welcome, please click the "Contact" links if you'd like to leave some.
© 2020 Bruce Johnson and Craig Watson