Turbo Project Pics

Turbo Project Information:
Click
here
for info on how this is all getting set up and organized and all that. Includes a turbo conversion parts list and also pictures and explanations of everything.
Does Go 2002-2007: If you want to see the ongoing story of my buildup, click here.
General Pictures
Turbo Pictures



Pipes (headers, turbo mounting, inlet piping, exhaust)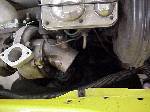 CC'ing the Heads
Engine Rebuild




&nbsp
Intercooler #1 - Didn't Fit


Intercooler #2 - Fits!




Bonnet, Intake, Carb, Fuel Pump, etc.
Cooling System
Miscellaneous
Feedback and questions are always welcome, please click the "Contact" links if you'd like to leave some.

Copyright © 2009 Bruce Johnson and Craig Watson