'62-'67 Nova Tire Fitment
General Information
Rear
According to Wayne Bushey of National Nostalgic Nova (the following is a quote from the 8/00 issue of
Chevy High Performance
):
"The ideal wheel is a 15x7 with 4.5" backspacing. This wheel will fit every '62-'67 Nova without a single modification. The '66 and '67 have different rear fenders, so you should be able to fit an 8-inch-wide wheel under the rear without too much trouble. As far as tire size is concerned, a 235/60-15 is your best bet. However, a 255/60-15 will fit under the rear in the '66 and '67 models. If you're willing to cut and weld, you can move the rear springs inboard on the frame for even more clearance. The fattest tire we found with this mod was a 265/55-15, but it's a lot of work."
David Shipman said G60-14 bias-plies fit on the rear of his '64 back in the '70s. They were mounted on 14x7 Pontiac Rallys and fit great. He believes the wheels had a 4.5" backspacing, but he's not absolutely sure. A G60-14 is about the same as a 235/60-14.
Wes said 205/65-15s fit the front of his '62 400 hardtop on 15x6s with no rubbing, and he's got 255/65-15s on the rear, no rubbing there, either.
Another source said he fit 29.5-9.0/15 Mickey Thompson wrinkles on the back of his '66 Nova and didn't indicate any problems.
Still another source said 245/60-15s fit on the back of his '67 without problems.
One more person e-mailed to tell me that he's got an unmodified '62 with 165-15s on the front and 255/60-15s on 15x7s with 4.5" backspacing out back and they don't rub at all.
Front
From many different people:
15x3.5 with 165R15 fits without rubbing.
15x5 with 3.5" backspacing and 185/65-15 fits
185/70-14 on stock wheels(14x5.5) fits but looks too short
215/75-14s don't work well on the '62-'65s using stock 14x5 wheels. The fronts rub the forward wheel opening quite a bit. They were way too tall and didn't look good.
More General Information
Tom provides the following:
a 165/15 tire on a 15x3.5 wheel will not fit on the front of a '62-'65
a 165/15 tire on a 15x3.5 wheel will fit on the front of a '66-'67 but will rub slightly
a 135/15 tire on a 15x3.5 wheel will fit the front of a '62-'65
caster affects front tire clearance
a 225/70-15 on a 4.5" backspaced 15x7 will fit the rear of a '62-'65
a 235/60-15 should also fit, but Tom hasn't verified it
a 26x10.5 on a 15x7 wheel with 4.5" backspacing fit Tom's '66 after moving the springs inboard
on either generation you can gain about three inches of tire clearance by moving the springs inboard and using properly backspaced wheels
Specific Examples
1962
Pete has a beautiful '62 convertible and is running 225/60-15s on 15x7s with 4.5" BS out back and 205/60-15s up front on 15x6s with 4" BS. No rubbing at all.
1963
Mike has 17x8 Billet Specialties all around on his '63. The tires are 235/40-17 up front and 255/45-17 out back. He said that 265/40-17s would fit out back without problems on 17x9.5 wheels and he plans to make that change in the future. The rear has been mini-tubbed with a 4-link and coil-overs, so don't think you'll be fitting those shoes on the back of your stocker! He's also got a Martz tubular control arm front clip. Feel free to
e-mail
him if you have any questions.
New Info: Mike is quite confident he'll be able to fit some 315/35s on the rear of his '63! Now keep in mind this car is far from stock and his findings may not apply to your particular project, but they're interesting nonetheless. He has fit 285/40s on there with a couple inches of clearance.
Mike suggests keeping the front wheel width to 7" with front subframes that have straight rails. The rails in kits from companies such as TCI and C.A. Chassisworks can accomodate 8" wheels up front. Also, Mike has some pretty strong opinions about the Martz front clip he used on his '63. If you're considering one I urge you to contact him and ask about it. Click here to send Mike an e-mail.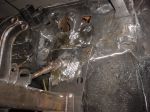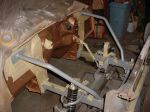 1963
Danny is running 245/60-15s on 15x7 wheels with 4.75" backspacing the back of his '63 and it only rubs while cornering with passengers in the back seat, and the car is slammed!
1963
David has a beautiful '63 Convertible and put some very nice 17" wheels in it from Intro Wheels. They were custom made by Intro and delivered within two weeks and they fit great! I haven't received tire size or wheel width or backspacing information, but as soon as I do I'll post it here.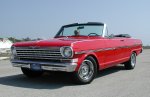 1964
Jim Miller is running 195/70-14s on the front and 225/70-14s out back on his '64 Nova 100 wagon (with a V8, power steering and brakes, factory air, and tinted windows) and they don't rub. The wheels are off a Camaro and he's not sure the sizes or backspacing, he's checking into it.

1964
Wayne Hemingway is running 195/60-14s on the front and 225/70-14s out back on his '64 Nova and the rears rub very slightly on one side under compression. The wheels are Buick rallys from a Regal and are 14x6 with 3.75" backspacing.
Wayne sent me some new info recently. He's now running 225/60-14s on all four corners with the same wheels as before. The fronts had some slight interference when first installed and the fender lip needed to be rolled a bit up by the bumper.
After the tire swap, Wayne added disc brakes up front and dropped in a 355/TH700 combo which caused more clearance problems because the discs push the wheels out farther than the drums and also because of the added weight of the small block.
Here's a recent picture:
1964
Glyn has a '64 SS with factory air, 4-speed, and a Tuned Port Injection 350. He's got 16x7.5 Centerline wheels up front and 16x8s out back on a stock rearend. He's unsure of the backspacing, he's going to check on it. The tire sizes are 205/55-16s up front and 225/50-16s out back. There is less than one inch of clearance on the inside at the spring, less on the outside. No cutting was done to accomodate the wheels and tires, but he did heat and hammer the inner wheel housing as much as he could.
Up front he has an custom adaptation of some early Camaro brakes. The wheel openings have been recontoured (although it's difficult to tell) to keep the tires from rubbing.
This is the only picture we've got at this time, he hopes to make some more available soon.

Glyn used to have 235/60-14 tires on 14x6 wheels all the way around which fit well, and that was before the inner fender massaging.
1964
Mike Varley is running 225/50-15 tires on King Speed Wheels. The fronts are 15x7s with 4.25" backspacing, and the rear wheels are 15x7s with 4.75" backspacing. He's got a stock rear suspension save the 3-leaf springs and he has a Fatman Fabrications front end setup. His beautiful '64 is running a '89 305 TPI with a 5-speed right now. Nice job with the EFI setup, Mike! Looks like it grew there. Is that an air conditioning compressor I see on the passenger side? Sure enough, that thing will be connected to a Vintage Air A/C system by next spring. Awesome.

1964
Mark has a '64 wagon and installed some 255/60-15 B.F. Goodrich tires on 15x8 Weld Drag Lites with 5.5" backspacing and bolted them to his stock 10-bolt rearend. There's plenty of clearance on both sides of each tire (about 3/4") after rolling the inner fender lips and relocating the leaves about two inches inward.
Mark has recently switched to 235/60-15 tires on the same wheels since the 255s are a bit tough to find sometimes. He went with some Yokohamas this time around. See pics below.
The wagon spring setup is slightly different from the sedans and hardtops, but the info should apply, for the most part.
1964
Tim's '64 SS has 15x6 wheels with 3.5" backspacing and 195/60-15 tires up front (with Camaro disc brakes) and 15x7 wheels with 4.5" backspacing and 225/60-15 tires out back, along with disc brakes, which pushed the rear wheels out slightly which has caused some minor rubbing. He's getting new 15x7s for the rear with 4.75" backspacing to take care of the problem. The car is lowered about two inches all the way around. Nice stance!
1965
Mike Harris is running 205/60-15s on 15x7 rally wheels with 4" backspacing on the front of his '65 Nova. He says it's a tight fit but they don't rub. Right now he's got 275/60-15 Drag Radials on 15x10s with 8" backspacing out back, but the rear has been tubbed and he's currently trying to fit some 15x12 meats. He's been running high-10s at 128 mph in the quarter with this big-block-powered Chevy II.
1965
Arne has a '65 with 205/50-16s on 16x7 wheels. No mention of backspacing, but he says the rears are really close to rubbing but the fronts are good. He's got multileaf springs in back and a Fatman suspension up front. The engine and tranny weren't in the car when the pics were taken, but he's got lots of miles on it now and there's no rubbing.
1965
Jdiakis has a nice-looking '65 with American Racing Torque Thrust IIs. They're 17x7 with 4" BS and 215/40-17 Dunlop Sports up front and 17x7 with 4.5" BS and 225/45-17 Dunlop Sports out back. He says he could have mounted up 235/45-17s on the back, but any bigger will rub. Below are the pics of his cool ride showing the wheels and tires, click
here
for more pics of his '62.

1965
Mark owns this '65, it's got 205/55-16 tires on 16x7 Torque Thrust II wheels that have 4" backspacing. They fit great after massaging the rear fenderwells about a quarter-inch. He also mentioned that he could have put on some 17" wheels with 205/55-17 tires on all four corners, and he just might do that in the future.


1965
This is Jeffrey's '64 sedan. It's lowered two inches all around with lowered springs in front and lowering blocks in the rear. The wheels are 15x7 with 4.5" BS on all four corners with Goodyear GT radials mounted up, 195/50-15 up front and 225/50-15 out back. Jeffrey said that's definitely the largest tire combo he could fit thanks to the lowered ride height. Very nice, Jeffrey!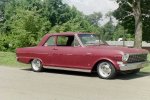 1965
Here's Gabe's '65. It's got 195/60-15s on 15x7s with 3.75" backspacing up front which fit perfectly with no rubbing at all. There are 225/60-15s on 15x7s with 4.5" backspacing out back which only rub very slightly when he's got several people in the car. He tried 205/60-15s up front but they rubbed, and the 235/60-15s he tried out back also rubbed.
1966
Jeremy's (see above) father, Ed Weed, runs 225/70-14s on 14x7s with 4" backspacing on the back of his '66 SS, and runs 205/70-14s on 14x6s with 3" backspacing on the front. Ed's wheelwells have the original SS wheel opening moldings, too.
1966
Here's another example of 16" wheels on an early Nova. It's a '66 SS that now sports 245/50-16 tires mounted on 16x7 aftermarket Corvette rally wheels out back and 195/50-16s up front on similar 16x6 wheels. All four wheels have 4" backspacing and no trimming was necessary front or back.
Now that he's got this setup he thinks he probably could have gone with 255s out back, too. Nice.
1966
The guys at Kwiklift have a beautiful Nova running some tall wheels! They've got 17x7s with 4.5" backspacing on the front and rear. The front tires are 205/45-17s and the rears are 215/45-17s. The car is slammed, the tires fit, and the car drives great.
1966
This is BP's gorgeous '66. It's got 17x7s up front and 17x8s out back. No mods on the front end, but the curved lip was removed from the back.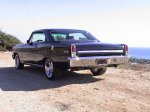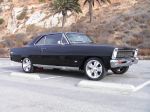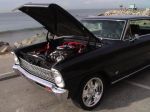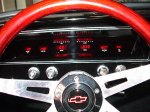 1967
Jeremy Weed is running 235/60-15s on his '67 Nova 2-door sedan on 15x8 wheels with 4.5" of backspacing on the front and the back, the inner lips of fenders have been rolled, however. He thinks the front end is pretty much maxed out (without rubbing) with the stock suspension. This wheel/tire combo also works well on the rear of his car without any problems, althought he has rolled the inner fender lip of the wheel opening. He does think, however, that he could step up to 245/60-15s and to a 255 if he used a lower profile sidewall without rubbing on the fenderwell. He did mention, however, that the fenderwell trim can make a difference on these cars.
1967
Eric has a '67 4-door and is running 225/50-16 Michelin XGTs on 16x6 rims with 4" backspacing up front, and 245/50-16 Michelin XGTs on 16x7 rims with 4.5" backspacing out back, and he has drum brakes all around. The rear sits about 1.5" higher than stock due to one added leaf to the spring packs. It looks great, no clearance problems.
1967
Jeff has a'67 hardtop with American Racing Torque Thrust IIs. Sizes are 15x7 with 4.25" backspacing and 235/60-15 tires in the rear and 15x6 with "standard" backspacing and 185/60-15s up front.
There's no rubbing at all, although it's quite close.
1967
Mike is running 245/60-15 Hoosier Quick Times on 15x7s with 4.5" backspacing on the rear of his '67 Acadian. He did have to grind the leaf springs and the inner fenders a little but they work well and look great. They really fill up the wheelwells!
Up front he's got 205-70-15s on 15x6s, but he's unsure of the backspacing. He'll get back to me with the info and I'll post it ASAP. He also hopes to have some pictures soon.
1967
Here's Jim's pretty '67 coupe which is running 15X6s with 3.5" backspaced ProStar's on front with 195/60-15 BFGs. The rears are as big as you can go on a stock rear, he says: 15X7s with 4.5" BS and 245/60-15 tires. There's a slight rub on the passenger side if he doesn't take it easy, but the driver side is okay. He also reminds us that many of the rearends on these cars are not centered very well. Use 235s on the rear if you want to be safe.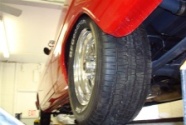 Feedback and questions are always welcome, please click the "Contact" links if you'd like to leave some.
© 2020 Bruce Johnson and Craig Watson