Bruce's '72 Nova: 1999
This is what it looked like in July of '99 (and it pretty much looks the same to this day). The pics were taken in St. Louis at the 1st Annual Nova List Gathering: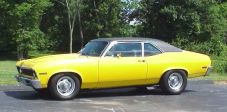 New Vortec Heads:
I convinced my wife that I really needed some L31 Vortec heads for my Nova in April of 1999. She said, "Will it be faster?" I said it would, so she was cool with it. I bought the heads from a local dealership for $210 each, fully assembled.
I took them home, replaced the stock valvesprings with Comp Cams #981 springs and installed some Crane +.050" keepers for additional retainer-to-seal clearance. I got a full set of factory self-aligning rocker arms, balls, and nuts and one rocker cover from an '86 Caprice sitting in a junkyard by my house, all for $10. I got another used rocker cover from a different yard for $10 and bought a new Edelbrock Performer RPM Vortec intake manifold #7116 from Summit for $175. All those items are required when bolting on Vortec heads, by the way, due to the different intake manifold bolt setup and the large pushrod holes.
Here are the heads:

And here's what the engine looked like after I put the Vortec heads on...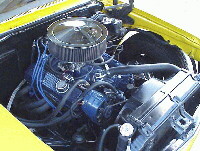 After the head installation I rewired my
trunk-mounted battery
to be NHRA-legal, installed an external battery cut-off switch, driveshaft safety loop, remounted my tranny cooler in front of my radiator, hooked up a tranny temp gauge, got a new windshield, added another ground strap, installed an adjustable vacuum advance can, and did some cleaning up, all in preparation for
The First Annual Nova List Gathering
in St. Louis, MO July 9-11, 1999.
I drove my Nova 650 miles from Minneapolis to St. Louis alone, no problems whatsoever. I proceeded to have a blast during the Gathering and ran a best-ever 13.49 @ 101 mph quarter-mile at Mid America Raceway and won two trophies for winnning my street-tire class and for being Top Eliminator Champion (I beat the winner of Super Pro, too!).
My Nova clicked the odometer over to 200,000 miles total on July 11, 1999 just outside of Hannibal, MO.
1999 Best E.T.:
Here's the timeslip from Mid-America Raceway:
Underhood Customizations:
My Nova was built with A/C but it took up too much room so I removed it. That left a big hole in the firewall, but a non-A/C blower motor housing is too small to cover the hole, so I made my own:
An HEI distributor is a tight fit in a '68-'74 Nova, especially with an Accel Supercoil, so while I was smoothing the firewall, I cut a big hole in it and welded in a recessed panel to give more clearance for the cap, coil, and wires.
Ironically, I'm not running a Supercoil anymore (or even an HEI distributor, for that matter), but it's still nice to have the extra clearance.
Interior Customizations:
These seats are out of a Fiero, but I'm not sure what year. There are four mounting points on each seat and they are in the same plane, which makes it relatively easy to mount them. Unfortunately, the floor of a Nova isn't flat, which forced me to create seat mounting brackets of different heights for each corner. Also, the Fiero seats are quite short (cushion to floor), so I wanted to raise them up a little anyway. This is what the seats look like (before they were solidly mounted to the new brackets) and here's a shot of one of the brackets I made.

For more information go to my Interior Customizations page.
Here's a shot of the center console I made in '96. I made it mostly of 3/4" plywood screwed together and covered in some tweed and vinyl material. The can cooler is sitting in a lower portion of the "tray" that I made specifically for that purpose. On the left side is an enclosed storage area, the lid for which is padded and attached with a piano hinge. The shifter is from a mid-'70s Monte Carlo (it's since been switched out for a Hurst QuarterStick). The seats are the same gray Fiero seats in the above pictures, but the camera flash makes the color look goofy.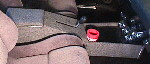 I also installed a '73 Nova SS tilt-steering column (nice to have!)
1999 Engine Specs:
'73 350 block from a Nova SS
Summit rebuilt stock cast crank
Rebuilt 5.7" rods with ARP Waveloc bolts from Northern Auto Parts Warehouse
Speed-Pro hypereutectic flattop pistons
Hastings rings
Melling M55HV oil pump
Crane Energizer single pattern cam - 216 degrees duration, .454" lift, 110 degree lobe displacement angle
New factory L31 Vortec cylinder heads - 64 cc chambers, 1.94"/1.50" valves, 170cc intake ports
Factory 1.5:1 stamped steel self-aligning rocker arms
Comp Cams #982 valvesprings
Crane +0.050" keepers
Edelbrock Performer RPM Vortec #7116 intake manifold
Edelbrock Performer #1405 600 cfm carb converted to electric choke
K&N 14x4 air filter in a Summit Racing housing
Summit rebuilt HEI with Crane adjustable vacuum advance can
Hooker Competition 1-5/8" headers
2-1/2" dual exhaust all the way to the rear bumper with Thrush California Turbo mufflers
1999 Driveline:
TH 350 with B&M Shift Improver Kit (which I highly recommend!)
Stock driveshaft with Summit safety loop
'72 8.5" 10-bolt rearend housing
'73-'74 Nova Eaton posi carrier
Richmond 3.70:1 ring & pinion
stock axles
1999 Chassis and Suspension:
Stock unibody frame
polyurethane body mount bushings
polyurethane leaf spring bushings and pads
Original front V8 w/ A/C coil springs with one coil removed
Relocated upper control arm (per Dick Guldstrand's recommendations) for more positive camber gain
polyurethane upper and lower control arm bushings and bump stops
Hellwig 1-1/8" front anti-sway bar with polyurethane bushings
Addco 3/4" rear anti-sway bar with polyurethane bushings
Front steering system rebuilt in '97 including tie rods, sleeves, ball joints, idler arm, and Pitman arm.
Rebuilt power steering gearbox with 12:1 ratio and high effort valve by Lee Power Steering.
Rebuilt power steering pump by Lee Power Steering.
New stock replacement rag joint
'73 Nova SS tilt steering column
Please go to Bruce's '72 Nova History: 2000 for the changes in 2000.
Feedback and questions are always welcome, please click the "Contact" links if you'd like to leave some.
© 2020 Bruce Johnson and Craig Watson