Bruce's '72: 1988-1998
1988
I've owned my 1972 Nova since June, 1988 when I drove from Minneapolis to Phoenix in a rusty, ugly 454-powered '78 Suburban.
That was one ugly Sub! Boy, we got a lot of looks down south in this rust-mobile! Anyway, the plan was to find, buy, and tow home a '70-'73 Camaro. I didn't find any decent Camaros but I did find this dark blue Nova for $700 that didn't run (electrical problem) but had a 350 engine, Turbo 350 tranny, power steering, and power disc brakes. A good project car. I towed it home with a tow bar, what a pain. This is basically what the car looked like when I bought it in '88, although this picture was taken in '91. It wasn't beautiful, but I really didn't care too much.
This is what the 350 engine and engine bay looked like as purchased. Ugh!

Well, it got better. As soon as we got the car home to Minnesota, I pulled the 350 and dropped in the 454 from the Suburban we had used to get to Arizona and back. After swapping motors we junked the Sub and started laying rubber in the Nova. This is what the 454 looked like in early '89. Ugly, but at least it ran! Bone stock truck big-block, but with headers meant lots of low-end torque, but not much upper end power.



1989
I had a few problems with the 454, mostly because of clearance issues. One header tube hit the power steering gearbox (it eventually "self-clearanced"), the crank pulley hit the front crossmember and showered the fuel pump with sparks, and I kept having starter problems. I had very little experience in the hot-rodding game and I got fed up with these problems. Now I could solve them with little difficulty, but live and learn. I pulled the 454 in the spring of '89 and sold it, doubling my money over the original $250 purchase price for the entire Suburban (which I had bought solely for the purpose of towing the car home).
I bought and installed what I was told was a '70 250 hp 350, but it turned out to be a 200 hp '71 307. Oh well. Before I installed this 307 I cleaned up the engine bay somewhat. Here's the 307:

1991?
Somewhere around 1991 I tore off the old ratty white vinyl top and found a pretty rough surface underneath. I wanted to paint the roof body color, but because it was so rough I just cleaned it up, painted it black, and had a new vinyl top installed. This is what it looked like with the new black top and the appearance didn't really change much after that until 1994.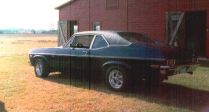 1992
I drove it with that old 307 from June of '89 to March of '92 when I installed a '78 4-bolt-main 350 I had rebuilt during the prior winter. The engine was originally in my '78 Chevy half-ton pickup but it had quit running for some reason I never did determine. I just did a re-ring job with new bearings, a new cam and lifter set, timing chain, poorly rebuilt heads, etc., but with the original pistons and cylinder bores that had over 110,000 miles on them. This is what the engine looked like after installation, but this pic was taken in '94 after the paint job.
This engine was okay, and it was a big step above the 307, but it had a lot of blow by and the compression wasn't real good. I ran that engine until the winter of '97-'98 (at which time I dropped the 350 into my then-winter-beater-now-farm-vehicle pickup, and it's still going strong).
1994
A friend and I painted the car in '94. Well, he painted it, I did some of the grunt work. He did a lot of welding and did a good job for the price. Not exactly smooth as glass, but good enough for a street car on a budget. This picture was taken in '95. For more pics on the paint job, click
here
.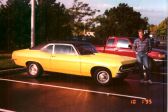 1995
In '95 I pulled the engine and detailed the engine bay which included making a recessed panel in the firewall (for more HEI distributor clearance) and smoothing the firewall somewhat by welding shut all the unnecessary holes and cleaning up everything else that I could. I also removed any "unnecessary" wiring (it used to be an A/C car so I got rid of all that junk), converted to an internally regulated alternator, and hid what wiring was left the best I could by tucking it out of the way or covering it all in black plastic split wiring conduit. Oh yeah, I rerouted the plug wires under the header tubes and painted the engine, too.
1996
In 1996 I redid the
interior
. I pulled the seats, shifter, console, kick panels, and carpet. I cleaned up some surface rust on the floor, I welded shut all the little holes from the little screws the former owner had used to hold down the carpet. I redid the hole for the shifter cable and then applied undercoating to all the floor surfaces. I already had some used Pontiac Fiero bucket seats but I had to and fabricate and weld in some
mounting brackets
for them. Then I installed the new carpet underlayment sound deadening material. Pain in the butt, but it definitely helped. Then the new carpet went down, followed by the Fiero seats. I built a custom
center console
out of 3/4" plywood, covered it in tweed and vinyl, and installed it, incorporating that same old mid-'70s Monte Carlo shifter that had been in there since about 1990. I also mounted a fire extinguisher on the heater core housing. Here's what the interior looked like at this point (I created the gauge/stereo panel in July 1998):

1997
In the spring of 1997 a couple friends and I tackled the front steering and suspension system, it was a first for all of us. We pulled everything from the rag joint on down and I sent the gearbox and pump to
Lee Power Steering
for a rebuild. Lee put a 12:1 ratio and a high effort valve in the gearbox in addition to the standard rebuild.
We replaced (with Moog standard replacement parts):
4 ball joints
4 tie rods
tie rod adjusting sleeves
Pitman arm
idler arm
We installed some Energy Suspension graphite-impregnated polyurethane bushings, including:
Upper and lower control arm bushings
front anti-sway bar frame bushings
front anti-sway bar end link bushings
ball joint and tie rod boots
body mount (subframe)bushings
I also installed a Hellwig 1-1/8" front anti-sway bar, cut one coil off the stock coil springs, replaced the rag joint, and I relocated the upper control arm pivot point, thanks to information from Dick Guldstrand Engineering and Car Craft Magazine. Here's a few pics of what went on...
Then later in the summer I bought some B.F. Goodrich Comp T/A tires. The fronts are 235/60VR15 on 15x7 rallys with 3.75" of backspacing. The rears are 275/60HR15 on 15x8 rallys with 4.5" of backspacing. Go to our Nova Tire Fitment Page for tire sizing info and detailed pictures.
Obviously I did a lot of work on the suspension and steering systems in 1997, but you wouldn't believe the difference!! The car doesn't lean much in the corners, the tires don't squeal, the front tires react instantly to steering input, and the ride isn't much different and might actually be better! I can't say enough good things about the Comp T/A tires or the Energy Suspension parts. Those polyurethane bushings don't squeak, either. They've been on the car for about 20,000+ miles now with absolutely no problems. Contact Performance Suspension Components for a catalog. That's where I got my stuff and they have the best prices and good service.
1998
My truck's engine was leaking oil like crazy during the winter of '97-'98, so I pulled the engine out of my Nova, pulled the truck's engine, dropped the Nova's engine into the truck, and proceded to rebuild the "new" Nova engine. Unfortunately the block cracked in the hot tank, but I had a spare, non-running 350 engine so I used the 2-bolt block from that one (actually a '73 Nova SS block). Anyway, I rebuilt the engine, put it all together, fired it up, and about 15 minutes into the break-in period I spun a cam bearing. I didn't know exactly what had happened at the time, but that was what it turned out to be. That really sucked. I had to pull the motor back out, strip it down to nothing, clean up the cam bearing journal, have the block's cam bores align-bored, new bearings all around, and put it all back together. This time, no problems. I put about 8500 miles on it between June 20th and December 14th, 1998 when winter finally hit Minnesota and I had to park it for the season. At that time it was running 14.08 @ 102.5 mph on the G-Tech. I still hadn't touched the new Edelbrock 600 cfm carb or the Summit HEI distributor since I got it running, so I expected to drop a couple tenths in the spring.
Go to: Bruce's '72 Nova History: 1999 for the 1999 changes to my '72 Nova.
Feedback and questions are always welcome, please click the "Contact" links if you'd like to leave some.
© 2020 Bruce Johnson and Craig Watson