The First Annual Nova List Gathering
Sunday!
Part 3
(click on any image to see a larger version)
---
We decided to park in a decent spot for some photo ops.  Here are a couple of dorks and their cars...
Same spot, different angle.  What's that thing in the background?  No, not the Arch, stupid, the cop! We were in a No Parking Zone for the pics, figuring we'd be out in a couple minutes.  What happens?  A cop comes by.  Nice luck. Fortunately he kept going so we weren't hassled by The Man.
---
Okay, that's enough of downtown, it was time to head for Ted Drewe's Frozen Custard to find out what Craig and Angella have been talking for all these years.  "Heaven in a Cup" they claim.  We'll see.
Ahh, here it is.  Craig and Angella have been waiting four years to come back for this!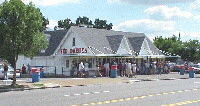 We each got some frozen custard and the Watsons were right, it IS Heaven in a Cup!  Wow, that stuff is SMOOOOTH!!!  They bought some to take home, but unfortunately I was still 24 hours from home (and a freezer), so I couldn't.  :-(
---
Here's a classic picture pose:  Two cool cars, a beautiful day, and the frozen custard stand, all on Route 66!
Here's our cars from the other side: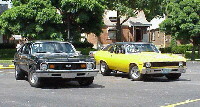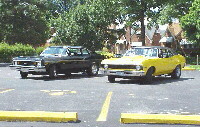 Craig and Angella with the cars, same parking lot:
---
Click here for a long, rather pointless video, cameraman walking around the cars in this same parking lot with both cars running.  Craig's car sounds awesome, you can't even hear mine.  It's 768 Kb.
---
Sadly, that's about it.  It was getting late so we drove back to the motel to load up Craig's car.  On the way we saw a white C5 Corvette and a silver Viper GTS - I wanted to square off against the C5 and Craig was gonna take the Viper, but unfortunately it didn't work out.  Next time!
We loaded up back at the motel (we had checked out earlier but left Craig's truck and trailer there) and were about ready to bolt when Shawn pulled in!  That was cool.  We were supposed to have left by 3pm and it was after 4pm by now, but Shawn just happened to stop in to see if we were still there.  We said our goodbyes and left.  Here we are (sniff), pulling out onto Lindburgh Blvd. (sniff):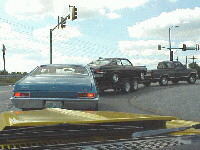 I went west, Craig went east, and Shawn went south (then north) (sniff).  We were sad that it was all over, but we had an awesome time that we'll remember forever and I wouldn't give it up for anything.  (anyone got a Kleenex?)
---
Thus ended The First Annual Nova List Gathering in St. Louis, Missouri.  :-(
See you all there next year?  Hope so!  Cross out the month of June, 2000 so you're sure to be available!
---
Check out pics and narrative from my trip back home on the Next Page
---
Gathering Links...
The Trip to St. Louis:   Page 1   Page 2  
Page 3
Friday Night in St. Louis:   Page 1
Saturday:   Page 1   Page 2   Page 3   Page 4   Page 5
Sunday:   Page 1   Page 2   Page 3
The Trip Home from St. Louis:   Page 1   Page 2