The First Annual Nova List Gathering
The Journey Home :-(
Part 2
(click on any image to see a larger version)
---
I took off from Iowa City about 9:25 Monday morning and headed west on I-80.  Pretty mellow ride, just cruising down the Interstate.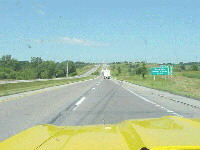 Not boring, not exciting, just driving.
---
My question is, what happened to the old Sharon? (groan)
---
This is the sheriff that passed me as I was doing 70 mph in a 65 mph zone in central Iowa.  Sheriffs are cool.
---
Approaching I-35.  Which way to go? I'd prefer to head back to St. Louis via Kansas City for more Gathering fun, but I have to head towards Minneapolis instead.
---
Had to stop in Ames, Iowa for gas.  What the hell kind of name is this for a convenience store?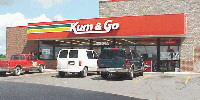 What, was "Stop & Rob" taken already? Might as well have called it "Wham, Bam, Thank You Ma'am"!!
---
As I pulled out of the brothel, err...gas station, wouldn't you know it?  My favorite sheriff was there!  No, no tickets were issued, but he pulled out behind me and onto I-35 northbound. After we got through a section of construction (one-lane open, me leading at EXACTLY 55 mph), he blew past me again.  I don't know where he was headed, but last time I had seen him was about 3 hours ago, so he was obviously far from home!
---
Hey, that was quick.  Made it back to my home state!
I think Minnesota has the nicest "welcome" signs in the country.  Well, of the ones I've seen, anyway.  If you can see it through the bug guts on my windshield...
Your (my) tax dollars at work.
---
YES!!  Back to more realistic speed limits!  Enough of this 65 mph crap in Iowa!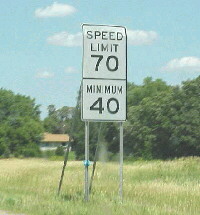 ---
Hey, another traffic jam in the middle of nowhere (southern Minnesota)!
Oh, well I guess this one's justified...
A tanker truck had rolled, the tow truck had just gotten it right-side-up.  Freakin' gawkers.
---
Getting ever closer...
and closer...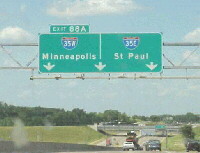 Here's the skyline of Minneapolis, first from about 35 miles south, then closer...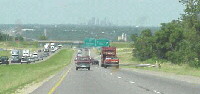 Okay, that's enough of THAT!
---
I live in a northern suburb of Minneapolis, but it was about 3pm driving through, which means traffic is picking up and I didn't take any pictures the rest of the way home.  Not that they would have been very interesting anyway...
---
Speaking of home, here it is again.  I made it!
And my final odometer reading:
That's it!  It's over.
---
Here's the Trip Data (corrected for speedo error):
Total time away from home:  3 days, 9 hours
Total miles travelled:  1521
Total gallons of fuel consumed:  109.4
Total cost of said gallons:  $138.95
Average cost per gallon (premium):  $1.270
Average miles per gallon:  13.49 (after necessary mathematical adjustments)
Total hours in the driver's seat:  Lots! (about 35)
Total Mishaps:  One (wipers quit working in a rainstorm)
Highest speed observed:  106 mph (cruising with a Probe GT)
Highest RPM observed:  6500 (racing Craig on the streets of St. Louis)
Total motel costs:  $154 (three nights)
Total non-gas and non-motel costs:  $84 (includes food, MAR T-shirt, racing fees, everything!  I did bring some food and soda with me, however, which I didn't count)
---
Total cost of everything: $376.95 and two vacation days
WORTH EVERY PENNY!!!
See you all there next year!
---
Gathering Links...
The Trip to St. Louis:   Page 1   Page 2
Friday Night in St. Louis:   Page 1
Saturday:   Page 1   Page 2   Page 3   Page 4   Page 5
Sunday:   Page 1   Page 2   Page 3
The Trip Home from St. Louis:   Page 1   Page 2
You are visitor number
since 8/12/99.